Holy Week always brings up much emotion for me.
It was Holy Week 2008 that mine and Nathan's relationship was literally resurrected.
It's a long, complicated, messy, love story. A story, that against all odds, ended with us at an altar,
binding ourselves to each other til death do us part.

Let me back up. We had broken up twice during our relationship only to get back together.
But on that hot day in July of 2007 it was over for good. I told Nathan goodbye outside the Church, the one
we used to pretend we would get married in, for what I just knew was going to be the last time.
I asked him to erase his presence from my life and to never contact me again.

At different moments we revealed to my parents that we both felt as if we had lost our spouse.

Heart wrenching. We moved on. Went our separate ways. I cried myself to sleep for 3 months straight.

It was February 22nd, 2008, 7 months after the final break-up, that I walked into another Church
to meet a man holding a violin case and smiling from ear to ear at the sight of me.
He moved my heart like no one had ever moved my heart before.

I was going to be the maid of honor in a wedding and he was the hired violinist.
My friend had asked me if I would be bothered by this arrangement... it was HER wedding!
How could I tell her "no" ? Nathan has such a gift with music. I knew he would bless their special day.

So there he stood, at the front of the church, calling the wedding party down the aisle with the melody
falling from his violin. He played by memory so he could watch ME with his heart and eyes.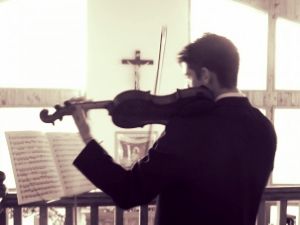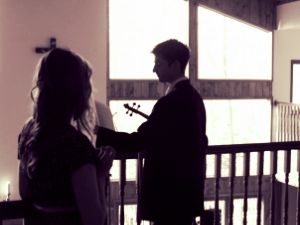 I could feel his gaze following me. A lover's silent beckon. I heard the call. God had put a deep love for
this man, the violinist, in my heart a long time ago. We just couldn't make it work.
Our backgrounds seemed so different - so hard to mesh together.
When we saw the future it just didn't make sense... the two of us?

There was this preacher. His vest and alligator skin boots matched his sweet Louisiana accent.
In the middle of rehearsal he just stopped. He stopped and walked to the front of the stage and said,

"The Holy Spirit has moved me to speak. I don't know who this message is for, but I'm going to share.
As you run the race towards heaven - you want to be running with someone who is by your side.
Someone who encourages and moves your heart toward Christ like no one else can!"

My mom looked like she was doing smoke signals or something in the back of the church
as she was laughing, waving, and pointing towards that violinist.

Nathan had tears coming down his cheeks and I knew. I knew the message was for us.
We were the perfect "running" partners.

We tested the Spirit and took time to pray and discern. Another 5 weeks would pass in silence.
We took the rest of the season of Lent to really make sure this was IT... that this was what God wanted.
Nathan called me one time to ask for this "retreat." That was it.
No further contact until AFTER the Easter Vigil when he came into the Catholic Church.

I sat in a separate pew that night and watched the man of my heart come into the arms of the Church.
We met outside on the sidewalk after the last "Alleluia" was sung.

No words. A lot of tears. It was confirmed that night as our love for each other
was resurrected with Christ. God had made us for each other.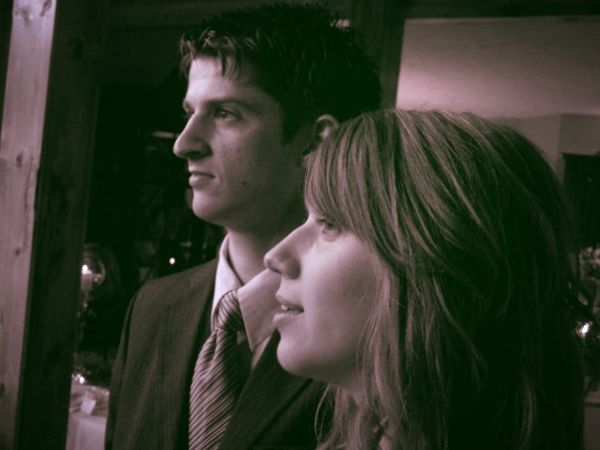 I love you forever, Nathan.



P.S. if you entered for a chance to win Satin Hands by Mary Kay
you can check the rafflecopter HERE to see if you won!!!