Good Friday.

What a mystery.

Do you know how much God loves you?
____________________________________
"God's love for Israel is compared to a father's love for his son.
His love for his people is stronger than a mother's for her children.
God loves his people more than a bridegroom his beloved; his love will be victorious
over even the worst infidelities and will extend to his most precious gift:
...'God so loved the world that he gave his only Son'...
CCC 219 / John 3:16
____________________________________

I look at the cross in all of its saving glory. I see a broken body. Broken for me?
Blood shed for a girl who can't go 24 hours without sinning?
A worthy, holy, blameless man crucified for a guilty party?

I close my eyes and I can hear the beat of His heart as the world, in silence, awaits His final breath.
thump... thump... thump... the rhythm is singing my name.

My name.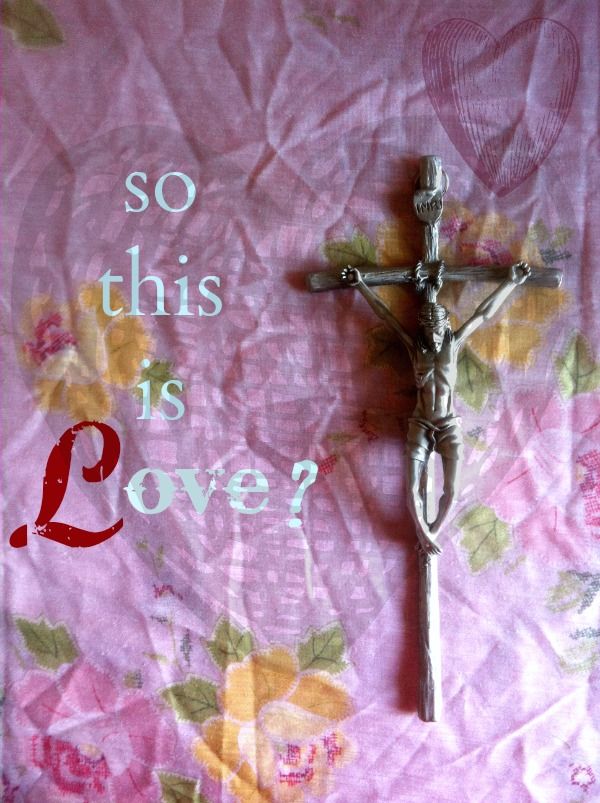 ____________________________________
"Though the mountains be shaken and the hills be removed,
yet my unfailing love for you will not be shaken..."
Isaiah 54:10
____________________________________

Blood and water gush forth from His heart. A fountain of mercy... and I want to run.
I feel unworthy. So I beat myself up. Why? Because it just feels better. I HATE being a burden.

I think that I understand better today than ever before
- in the vocation of marriage and motherhood -
what it means to SACRIFICE OUT OF LOVE for someone.

There is NOTHING I would not do for my spouse or child.
Barring all things that would separate me from God.
It's not a burden, but a welcomed JOY. I want to give my life.

Just as He wanted to give His life for me. For me. Repeat that to yourself, Brittany.

I can see NOW that LOVE - all consuming, wild, passionate LOVE - held Christ to the cross that day.
Love for me. I still have a hard time accepting that. I want to crawl up there next to Him and just
lay my head on His chest. I want to feel His heart beat... and breathe with Him. In and out. Forever.

Let this song bless you. A love song between God and His beloved.



You are worth it. He loves you more than you know.