So there's this woman and she has a blog.
I stumbled upon her space one afternoon and knew I had met a kindred spirit.
She delivers messages with the grace of a spiritual warrior and I always leave Lily & Light feeling
refreshed - rejuvenated - reawakened in my relationship with God.

Meet Kristin. She's pretty awesome.



Right now she is sharing a series on SUBMISSION.
I know what that word makes me think of...
I have visions of doormat behavior, prison cells, and lots of crying.

But Kristin will take your hand and lead you into the beauty of abandonment to God.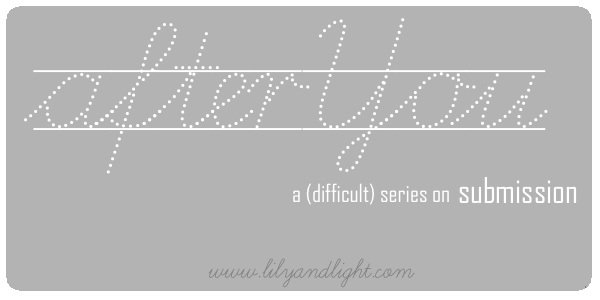 I know that I struggle. Oh I can talk the talk:
"Dear God, I give you EVERYTHING. Do with me as YOU will. Amen." Blah blah blah.
But when the rubber meets the road and God ASKS me for something...

you can bet I squirm, cringe, cry, throw a tantrum, put my hands on my hips, and demand an explanation.

My kids have been sick off and on for over two weeks now.
I have made myself sick bending over backwards to meet their needs...

I have been mixing smoothies. I have been making homemade juice.
I have been rocking them to bed. I have been watching HOURS UPON HOURS of boy movies.
I have been wiping noses. I have been drying tears.

I... I... I... I... I... I... I... I... I... I... I... I... I...

I have been trying and not once... not ONCE have I asked God to step in and help me.

Not once have I submitted my children to God in this matter.
*hangs head in shame*

I finally let go and handed it all over to God last night.
My kids didn't wake up HEALED, but I woke up with a new attitude...
an attitude of surrender and peace.

I think sometimes as parents we want to be the answer for our children.
But it can't be that way. We must not let ourselves even go there.

I will let Kristin take it from here. Go check out her series that is happening NOW over at Lily & Light!!!
Let me know what you think!!! I bet you won't walk away unchanged.