We FINALLY got around to giving our bedroom a facelift!
When we moved in, it was painted a lovely shade of FLAT white.
You know what that means?! EVERY time we even just grazed the wall, it left a mark.

::: BEFORE :::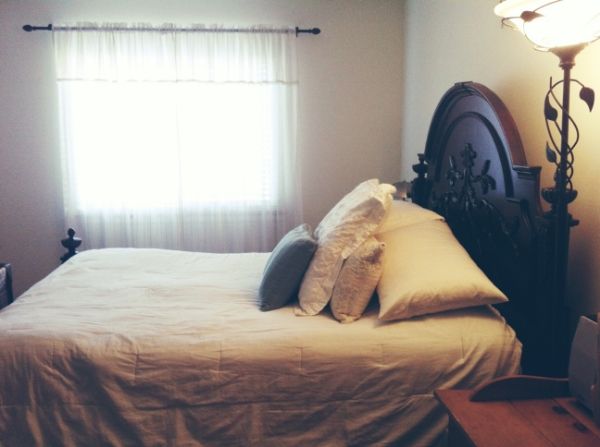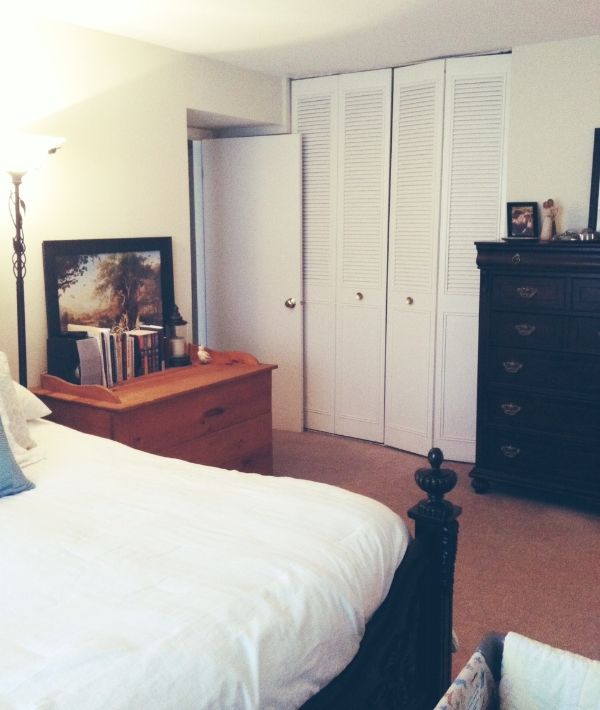 ::: AFTER :::

Small touches add so much for me.
New lamp for nightstand + Marshalls
Decorative boxes + Paper Source
Layered accessory dishes for dresser + vintage school tray / dishes from our wedding




Our master bath was feeling left out. So we gave it a new coat of paint!
It went well with the shower curtain and decor we already had! SCORE.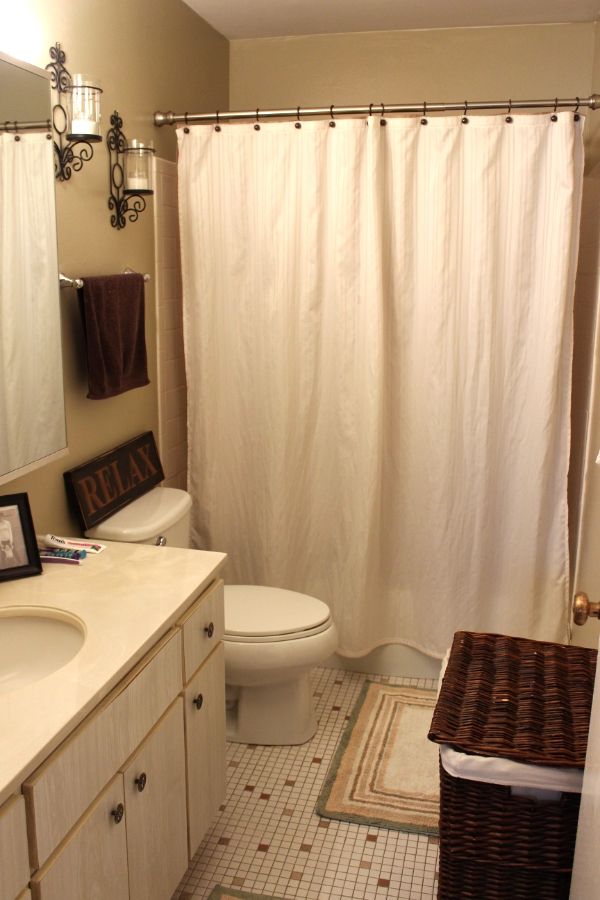 ::: DIY CANOPY :::

When I was around 5 or 6 years old, I remember walking into my grandma's friend's house
and seeing her beautiful canopy bed. I made a mental note that day: "MUST sleep in canopy bed."

We used FOUR small, white hooks from The Home Depot to hold up the canopy.
(as evenly placed at the four corners of the bed as possible)




I am actually NOT very talented with the sewing machine. A weakness that I'm too lazy to correct.
So HomeGoods, anyone?! I found a great deal on a king-size DUVET (we have a queen-size bed)!
I knew that it needed to be BIGGER than the bed if I wanted it to drape.

PERKS of buying the duvet - already sewed! NO HEMMING. Pattern on BOTH sides. PERFECT shape.
I snatched it up for $40.00. I seriously don't think I could buy as much fabric as needed -
in a pattern/color I LIKE... for that amount. I think I'm winning!?




NO SEWING, remember?! I simply wrapped a chunk near the corner of the fabric around the hook
and secured the loop created with a small safety pin. It's tight. Not going anywhere.

And that means... when I get tired of the canopy,
I have a brand-spanking-new GORGEOUS duvet that I can use for something else!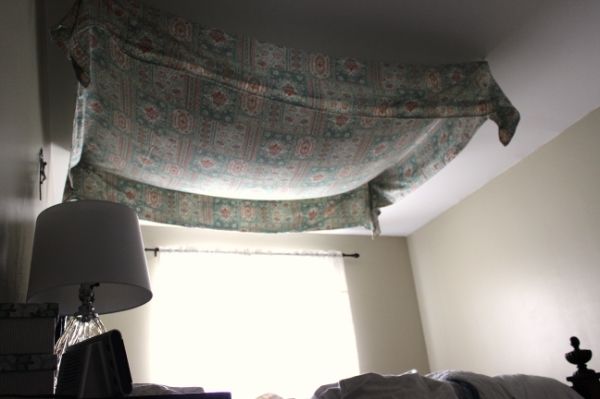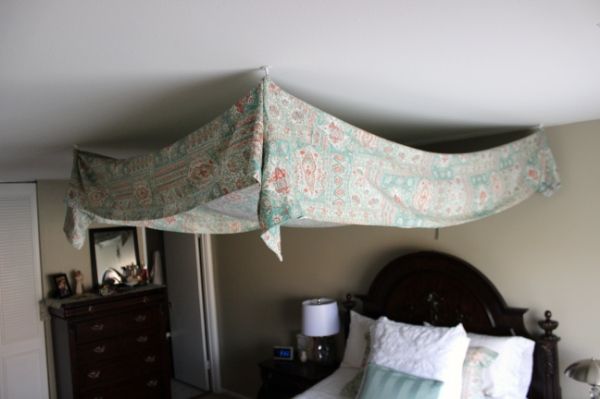 We went with a lovely shade called "Dried August Grass" for our walls.
It totally has tan/gray/greenish hues in it. We were married in August.
It felt serendipitous.

The back story on why Jesus hangs above our bed HERE!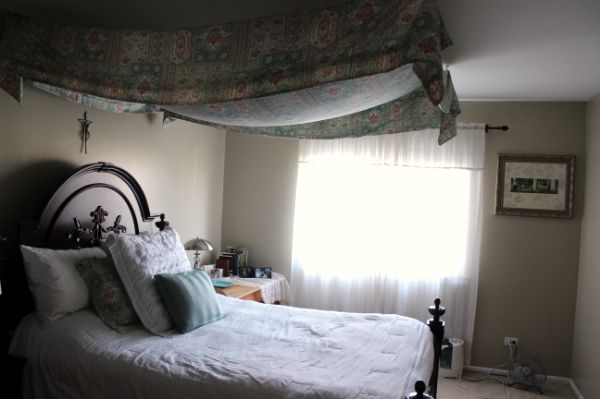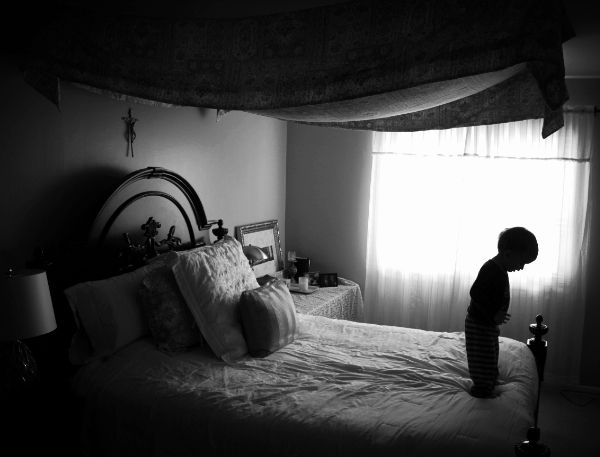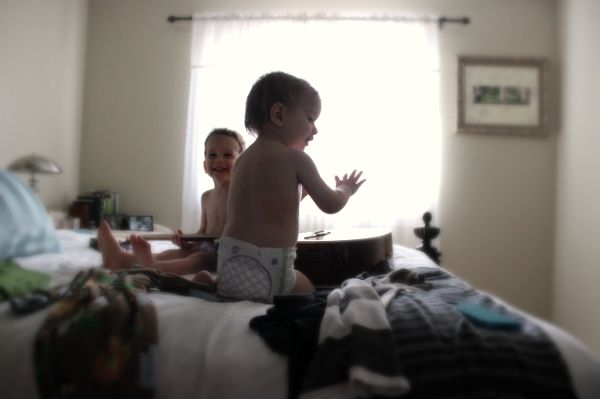 I know that material items and changes cannot create the happiness found in our home.
These walls, even if flat white, are witnesses of daily miracles that you can't pick up
at the department store.

But here we are!
Fresh paint, canopy over the bed, beautiful babies singing along...
and life is good. So very good.