I love clothes. It's no secret. And what I love even more than clothes is NEW clothes.
Dangerous, I know. It doesn't have to be BRAND NEW though - thank goodness!
Just new to me.

Oh motherhood has had its way with my body.
I've been to super-preggo and back again. Twice.




And all I want... is to feel cute in the clothes I am wearing without breaking the bank.

If you opened my closet you would find an array of clothes from size 4 to 12.
It may seem excessive, but we plan on having more children - so I know that my body
is going to continue fluctuating in size for many more years to come.

A budget lifesaver.
Here are my tips and tricks, ladies and gentlemen.

This season I have had to go out and buy an entire new Spring/Summer
wardrobe for my body that is smaller than it's been in a long time.
I haven't seen size 4 since 6th grade.
__________________________________________________________________________
::: so here is my game plan when it comes to dressing my ever-changing momma body :::
Thrift Stores FIRST (NO shame! Honestly, some of my FAVORITE clothes have been thrifted.)
Coupons/Sales SECOND
Full Price/Brand New THIRD

And I am ALWAYS open to gifts and hand-me-downs!
__________________________________________________________________________

I spent $20.00 on all my shirts. Ok H&M had a killer sale going on AND I had
$5.00 OFF coupons! But that's what I'm talking about - PLAN to shop!
Some were gifted & some came from Goodwill.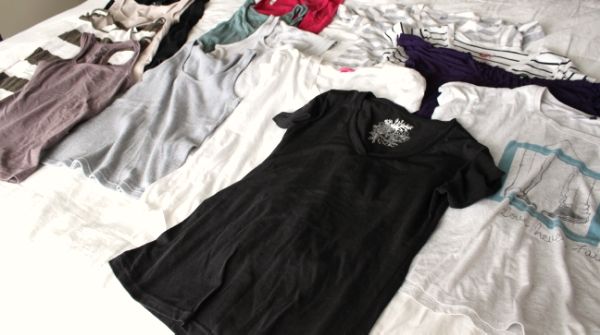 $60.00 on dress clothes. Dressy clothes are a little more difficult for me to find.
I'm picky and want to be fashionable AND modest... so difficult sometimes!

A sweet sale at Old Navy landed me the blue stripes for $10,
and I nabbed that great coral dress from Marshalls for $20.00 (wedding attire!).
Dark stripes are from Target - everything else... Gap and Ann Taylor from Goodwill!

Ok and the shoes?! I'm in love with them!
A sale at Wet Seal got me the brown ones for $7 and I found the black ones,
like new, from another thrift store for $5.



$12.00 on shorts. Yea. This is probably my favorite deal! I literally walked into Goodwill
one night and BAM! They had my sizes, in the colors I wanted, for CHEAP.

These are Eddie Bauer, Old Navy, Gap, and Vera Wang, ok?! I would have spent 5X's that amount
picking them up BRAND NEW. But hey... they are new to me AND because I don't know how long I'll
be at this size (more babies in the near future hopefully!)... it feels better to not spend
a ton of money.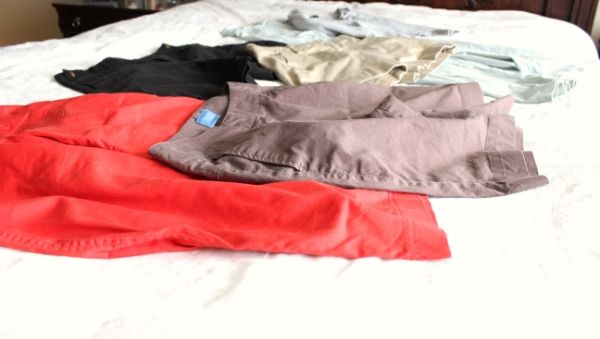 So there you have it...
A whole new Spring/Summer wardrobe for less than $100?
Yes, please!

Thoughts?