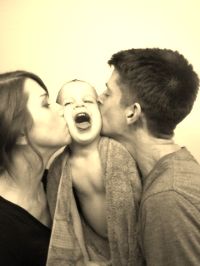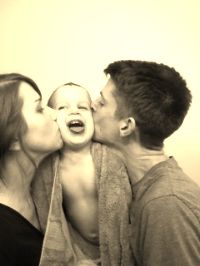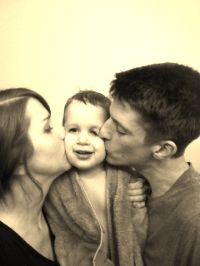 "
HOOOOOOOOOOOOLY WAAAAAAAAAAAAATER!!!
"
is what my 2 year old was screaming at the top of his lungs as I carried him out of Church last Sunday.
Kicking and hollering like a wild stallion caught to be tamed, he gave it his all.
Children are the best at squirming when agitated.
Oh he floundered, back and forth, throwing his head in every direction;
but this momma held on to her little fish as he cried
ALL THE WAY
to the car.
Two year olds are highly emotional creatures. And "Toddler Whisperer" is
NOT
on my resume.
I gave him more than one chance to dip his little hand in the holy water font.
As stubborn as could be, he sat himself down on the floor at the entrance to the Church
and proceeded to tell me, "NO! NO HOLY WATER."

I have no idea where he gets that behavior. Cough. Cough.
I even tried to HELP him bless himself... but NO. He wasn't having it.
He said "NO" - so I said, "Let's go." The tempter-tantrum began.
That's when the eyes of the audience started burning in my direction.
I know. That's dramatic. But it sure did
feel
that way.
To top it all off, my key chain broke loose just as we were about to break
free of the Church and I had to stop and pick up all the pieces... with the wild stallion.
Still kicking. Still screaming.
I was mortified. Embarrassed. Frustrated. Angry.
I couldn't make eye contact with anyone. I just moved through the parking lot
hoping to avoid getting hit by moving traffic. I figured people wouldn't be able to
miss seeing
the woman with the flailing boy
crying out for HOOOOOOOLY WAAAAAAATER!
Relief. We reached our car.
I literally just sat there taking deep breaths as my little fish finally calmed down.

"Why, did you act like that, buddy?"
"I want HOLY WATER,
" he said between sobs.
How often do I act like this before God?
Yes, I want this. No, I don't. Yes, I do.
But I want it MY way. And if it is NOT my way... then forget it.
I don't want it. Yes, I do.
Do I flounder before God - as a wishy-washy little fish?
Or am I totally in?
Committed.
I know there are
MANY
times God has carried
ME
around, kicking and screaming.
Help me to be patient with my children as YOU are patient with me, Father.
When God asks me if I want something I want to answer with a fully abandoned heart
and open arms.
What do YOU want for me? Let me do YOUR will, Father.
And I think next time we go to church I just may take a dip in the holy water fountain
with
my two year old for good measure. Lots of graces floating around in that sacramental.
We need those in these parts!