April showers have been hitting us hard this week.
(Dear Spring, we have cabin fever and would really like to see you!)
I'll forgive the rain, because it has given us a great excuse
to bake up a storm over at our place!

This is, hands down, my favorite cookie base recipe! SO VERSATILE.
Easily transformed for the gluten-free or wheat-loving crowd!
My go-to cookie recipe for sure. Add it to your arsenal. You'll be glad you did.


Best Basic Cookie Dough EVER
Cream together:
1/2 C. butter or vegan butter (both work well!)
1/2 C. organic cane sugar
1/3 C. honey
1/2 tsp. vanilla
1 egg
Sift together & add to creamed mixture:
1 1/2 C. Bob's Red Mill All Purpose Gluten-Free flour OR regular flour
1/2 tsp. sea salt
1/2 tsp. baking soda
1/2 tsp. xantham gum (OMIT if using regular flour)
I use my KitchenAid and beat on a low setting for about 1 minute.
Don't over mix. Add whatever "mix-ins" your heart desires!
______________________________
We mixed three different types this week:
~ classic chocolate chip
~ white chocolate with coconut
~ Reese's with a couple dollops of peanut butter
______________________________
Bake @ 350 degrees for 6-8 minutes
Yields 20-24 cookies
I love how the chocolate thief keeps looking me straight in the eye.
"I'm not doing anything, mom. Just keep snapping pictures."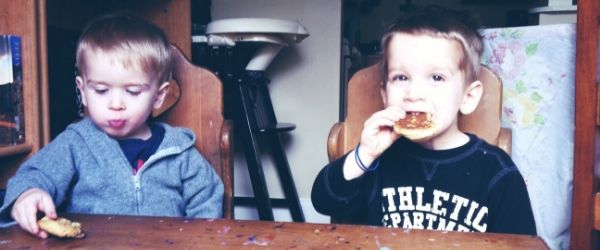 These professional taste testers gave the cookies a "thumbs up" ...
the little one can't control his thumb - so he gave it a "finger up"!!!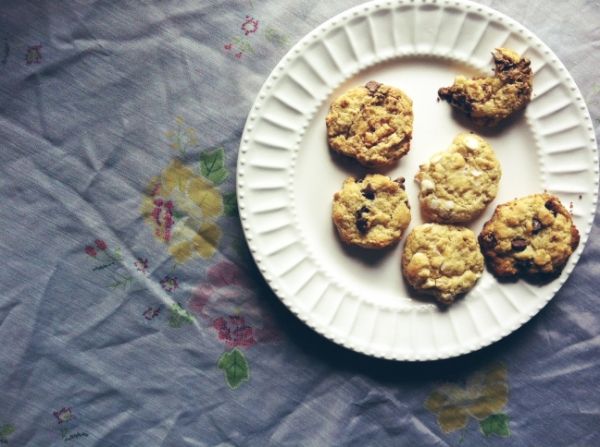 Brother & Brother APPROVED.