Back when we were first married (All of four years ago - I know, we're profesh now. Ha!) I made the mistake
of letting things slide. They were mainly just little things. Big girl panties in hand, I thought
I was doing us both a favor by just moving on. No big deal. I've got this.

Fact of the matter was, my brain's hard drive was storing up memories. 3 months later
Nathan would have a melt-down mania on his hands. And by meltdown I mean...
let me paint a picture for you:

"But you left your clothes in the bathroom over and over again which means you don't
appreciate that I clean the house... which is probably why you ignored those two text messages
I sent you about my bad day at school... and you probably don't even want to be married to me
because you fall asleep as soon as you come home from working 14 hours straight... and
I am never making dinner again due to the fact that you only ate half of the soup I packed -
you obviously hate my cooking."

Funny. Not funny. And mostly NOT true. After time, it all gets totally screwed up.
That's why we check-in a whole lot more these days. Saving the state of the union -
one heart-to-heart conversation at a time!

We've learned that it is better to check-in and drop-off the good, the bad,
and the ugly stuff every day - than to let time grow little problems into something bigger
and hardly relevant down the road.

So we spent date night last week just talking. We sat at the dining room table for hours
just processing... laughing... planning... dreaming... organizing the memories in our heads
so that Brittany doesn't haven't nightmares and meltdowns in the future! The romance of nerds.

Moral of the story... talking about things is a great idea!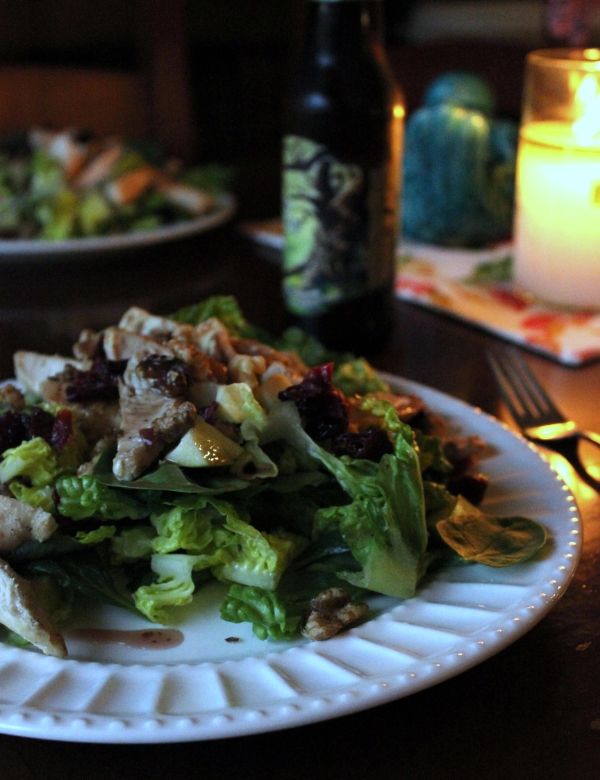 _______________________________
::: Apple-Walnut Chicken Salad :::
+ + + + +

chopped romaince & spinach topped with...
grilled chicken breasts (garlic, sea salt, pepper, extra virgin olive oil)
chopped green apple
cucumbers
cranberries
walnuts (we toasted ours in olive oil and dusted them with sugar!)
pomegranate (or other sweet & fruity) salad dressing
_______________________________

Have a great weekend, y'all!!! Enjoy the holiday - and don't forget to enter
my giveaway that runs through this weekend! $100 Target Gift Card!
Just in time for summer!!!
XOXO