Follow my blog with Bloglovin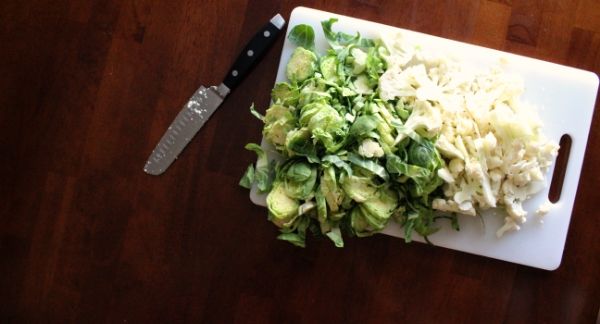 Here is a perfect plant-based dinner idea... that I kind of stole from my sister-in-law.
She's awesome - hence, she makes awesome food. Not too long ago she made something along these lines for
us and I seriously daydreamed about the meal for days... and then I finally just broke down and went out
and bought everything to make my dreams come true! Y'all this is good.
And if you don't have all the ingredients... just work-it in this direction and wing-it!
That's what I did -
and voila
- plant lovers' paradise on a plate. Dramatic truth.
____________________________________
Sweet Brussels Sprouts & Cauliflower
+ + + + +
Saute 1 small onion, 2 tsp. minced garlic, 8 chopped brussels sprouts,
and half a head of chopped cauliflower in a couple drizzles of extra virgin olive oil.

Don't wilt them to death. Just toast them up. When finished (10 minutes tops!), add juice of
half a lemon, 1/2 C. cranberries, 1/2 C. chopped walnuts, and a generous drizzle of pure maple syrup.

I ate the cold leftovers of this for lunch with fresh strawberries. Um yea. Top 10 best lunches.
____________________________________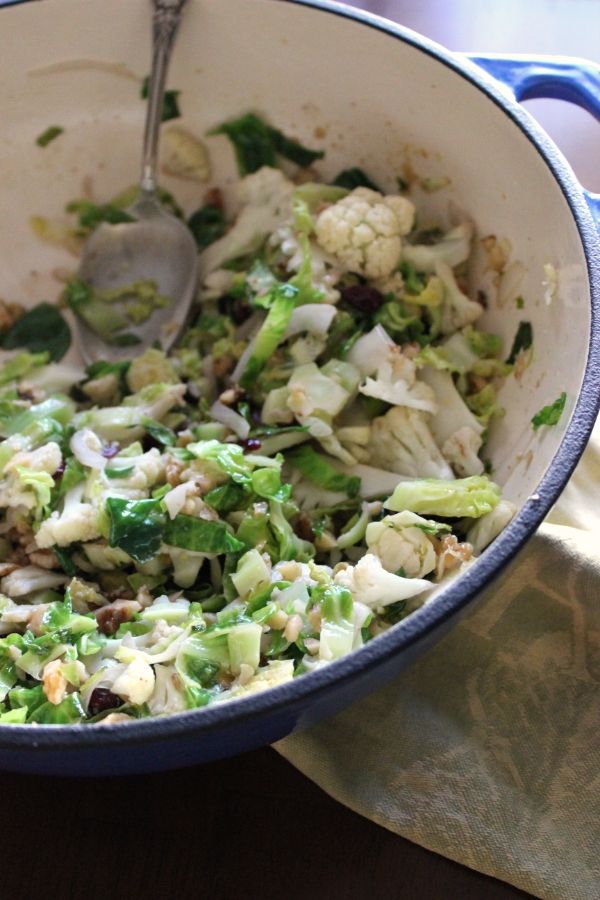 ____________________________________
Pistachio Rice
+ + + + +

4 C. prepared rice (about 2 C. dry) - CHOP AND ADD: 1 C. pistachios, 1 red pepper, 1/2 onion,
1/2 C. cilantro, a handful of chives, 1 tsp. minced jalapeno, 1 large avocado.
Stir gently. Add sea salt to taste. Lime juice is yummy. If you want.

Scooped this all up with some sweet potato chips. Not needed, but good!
____________________________________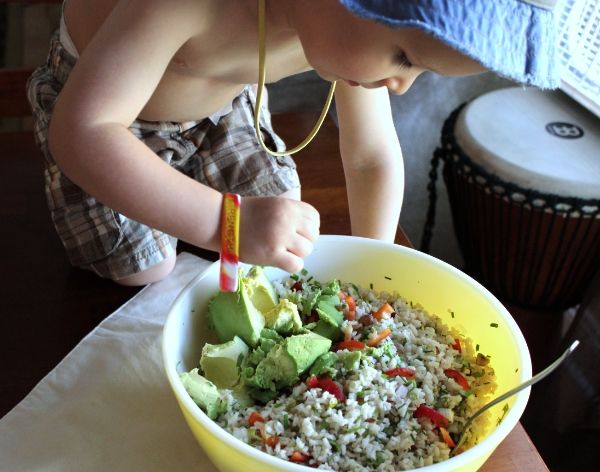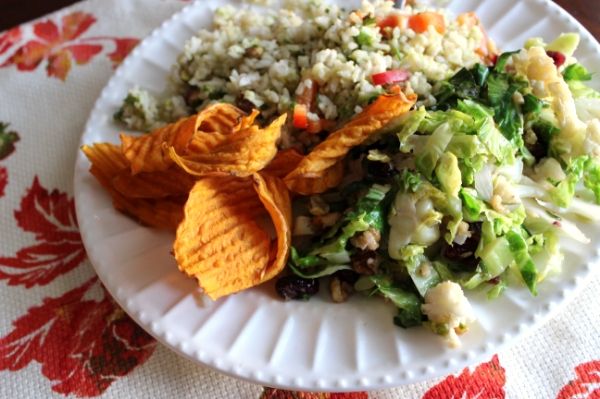 So, no joke, as Isaiah (2) ate this meal, he kept telling me he was eating CANDY!
Brainwashing complete. Mission accomplished. Truth is - we don't dis veggies around here.
You won't hear a, "Uuuugh carrots!" or "Green beans are GROSS," in these parts.
We basically just over-embellish the idea that vegetables are straight from God...
because, well, they are. And we want to give glory to that... with thanks and praise
for the goodness that they provide.
Just some food for thought. Literally.
____________________________________
Oh and check out the sweet giveaway running all week on my blog
to celebrate my 1 year of blogging! $100 TARGET GIFT CARD involved!!!
____________________________________