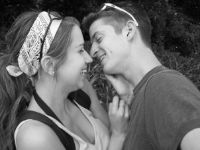 When we said, "I DO" on our wedding day we knew pretty much everything
there is to know about each other. And whatever we haven't known along the way,
we have figured out by reading each others' minds like Jedi masters.

NOT. What a joke!

We are going on four years of marriage here (insert roaring applause) and the truth is
that we are BOTH changing on a regular basis. Quite frankly, if I wasn't keeping up
with my husband, I would have no idea that he went from a die hard lover of sleep to
a stay-awake-til-all-hours of the night working on finances kind of dude!
for. the. fun. of. it. YES, I married a huge nerd.

Are you a student of your spouse?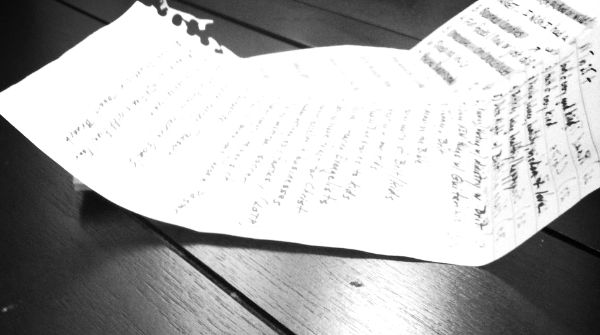 Last Friday night we decided to update each other on the things that MAKE US HAPPY.
We crashed on the couch with hot cocoa and peanut butter cups to listen to each other
share on the latest version of "preferences" and "likes."

Two people. Two lists of 25 things.
Eye opening. Heart warming. Laughter provoking. Mind boggling.

Before we shared our lists - we first took turns guessing a couple items
that we thought the other MUST have listed. We both got a 50% on that test.
CRAZY! Yea, we needed this!

Things that USE to make me happy when we got married were not so important anymore.
Things like allergies, having children, moving to a busy location, and discovering
more sources of happiness definitely changed things up a bit.

We shared very serious things like, "Giving Christ to those around me."
To not so serious things like, "Fruit Pebbles as breakfast in bed."

What have you learned about your spouse lately? Do you know what makes him happy?

If this super sweet marriage deal is for life... how awesome is it to take the whole thing
to the next level, the next chapter, the next age with really knowing and understanding ways that you
can make your best friend HAPPY?!?! To bless his life with JOY?

From our hearts to yours!

________________________________________________

P.S. You are running out of time to enter for a chance to win a
handmade, recycled journal from The Recycled Library!!!

Her work is so lovely and would make a such a special gift...
Easter, Mother's Day, Graduations... are just around the corner!
Visit Erin at her shop and let her bless you,
or your loved ones, with one her beautiful creations!!!

Enter the Giveaway HERE!

________________________________________________

XOXO