If you would have asked me five years ago about what I would feed my future family,
I probably would have given you details about fried chicken, homemade pizza, and Funfetti cake mix.
In all honesty, we DO still sometimes splurge on our "American Diet Loves" - as long as it doesn't
breach our allergy restrictions. Like I totally have a box of Fruity Pebbles in my cereal cabinet right now
...mmmm hmmm... but NOT the norm. It was a birthday gift that I am LOVING.
I seriously haven't had a DYE infested cereal in over two years.
___________________________
:: MY PERSONAL TAKE ON OUR "DIET" ::
A healthier lifestyle with unhealthy splurges here and there.
NOT an unhealthy lifestyle with healthy splurges along the way.
___________________________
It really isn't a diet, but a way of life for us now.
Yes, dad... we still eat like rabbits!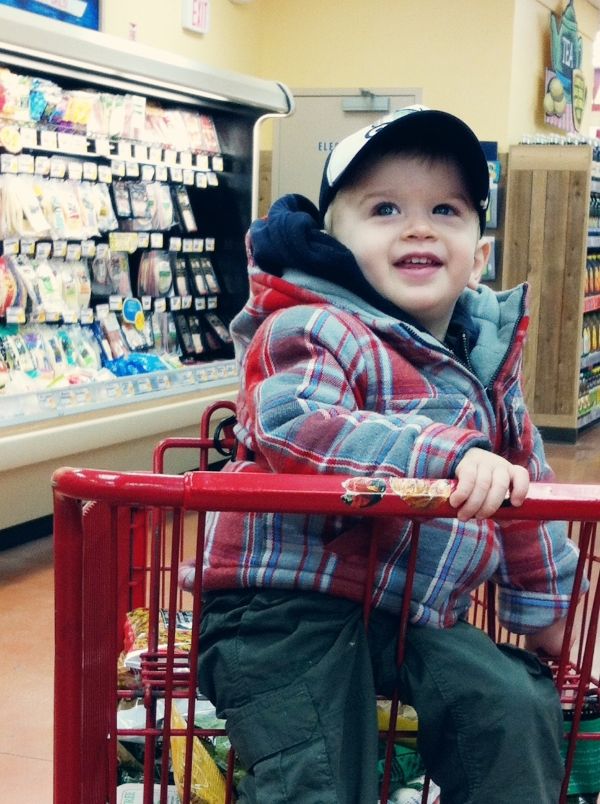 Balance. I don't freak out if my kids devour a fun-size pouch or two of M&Ms
after an Easter Egg hunt at Grandma's house! I use to though. I've come a long way.
Again - this is not a RELIGION for us. Being mostly plant-based/whole foods/gluten-free
is what works for OUR family... mainly because it keeps us feeling %100.

And by 100% I mean UUUUUHMAZING!!!!
You can read more about our struggle with allergies and food journey HERE.

Because THAT is what has brought us to this moment. The moment where I give YOU
a tour of what our family's meal plan and grocery list looks like this week.

Here is what you all have been waiting for!
Please feel free to leave comments, catch me on Facebook,
or shoot me an e-mail (lilyfieldmomma@yahoo.com)
if you have any comments or questions. I LOVE TO CHAT FOOD!

I have CODED the meals so you can see in better detail what goes on in regards to
eating plant-based (or vegan) and whole foods. ALL our meals are gluten-free. Meat and eggs make a few
appearances, and cheese comes into the picture for like 2 seconds with this week's plan!

As a way of life, we try to avoid as many animal products as possible.
If animal does come into our home, you can bet it is cage-free, free range, no added hormones,
nitrate-free, antibiotic-free, etc. - as close to the way GOD made it as financially possible!

I make most things from scratch to avoid additives, preservatives, and unmentionables.
Gluten, MSG, GMOs, artificial dyes, and processed sugars are not our friends.
I try to keep it as fresh and organic as possible... and we think it's pretty tasty!

Ready? Here we go!
P.S. You'll see "leftovers" mentioned TWICE.
It is the only way to stay sane in the kitchen, my friends!

P.P.S. I don't usually "plan" breakfast and lunch anymore.
After doing this for four years - I just KNOW now.



V = 100% PLANT-BASED / VEGAN
VEG = Vegetarian
___________________________________________________________________________________
Monday
Breakfast: toast // smoothies (strawberries, banana, broccoli, spinach)(V)
Lunch: Roasted carrots and red potatoes over fresh spinach // apple wedges (V)
Dinner: Beef and broccoli over rice
*We love Udi's gluten-free multi-grain bread!
Toppings for toast include: nut butter, fresh fruit, maple syrup, Earth Balance
___________________________________________________________________________________
Tuesday
Breakfast: Apple Pie Rice (V)
Lunch: Stir-fried veggies - in EVOO & fresh garlic // oranges (V)
Dinner: Spinach-Leek Soup (a VEGAN variation of my Kale Soup) // salad (V)
*Apple Pie Rice is our version of "oatmeal" since we can't tolerate it.
We add cooked apples with honey and cinnamon to warm rice. Warm and hearty!
___________________________________________________________________________________
Wednesday
Breakfast: Scrambled eggs // fresh berries (Veg)
Lunch: Fresh veggie and fruit tray // spring rolls (V)
Dinner: Leftovers (V)
*You can see more of what I eat for lunch HERE!
___________________________________________________________________________________
Thursday
Breakfast: Some kind of muffin! Banana or Pumpkin? (Veg)
Lunch: Grilled chicken salad // grapes
Dinner: Fried eggplant marinara over noodles // roasted cauliflower and carrots (V)
*Check out my friend, Arisa's, Fried Vegan Eggplant HERE!
We make ours gluten-free with marinara sauce.
___________________________________________________________________________________
Friday
Breakfast: Cereal // smoothies - (blueberries, banana, carrot, spinach)(V)
Lunch: Vegetable soup // rice crackers
Dinner: Tomato-Basil-Mozzarella sandwiches // fresh veggies
*We are going out for dinner later in the evening - the sandwiches are a snack!
BOYS are so hungry ALL the time FYI.
___________________________________________________________________________________
Saturday
Breakfast: Coffee cake // fresh carrot-apple-lemon juice (Veg)
Lunch: Asian chicken lettuce cups // apples with peanut butter
Dinner: Earth Tacos with Trader Joe's pineapple salsa // homemade guacamole
*For my Asian chicken lettuce cups I use THIS RECIPE.
I just use ONE chicken breast and add way more veggie to the mix. SO YUM.
___________________________________________________________________________________
Sunday
Brunch: Pancakes // bacon... because who doesn't love bacon?!
Dinner: Leftovers
___________________________________________________________________________________
Snack Time
For the most part we try to snack on fresh fruit or veggies,
but sometimes we'll whip up something extra yummy like cookies, applesauce, or fruit leather!
___________________________________________________________________________________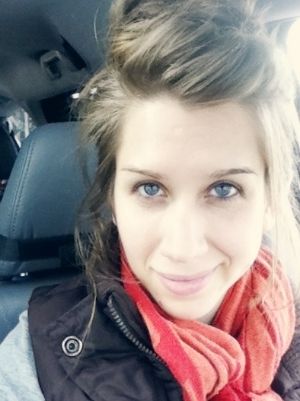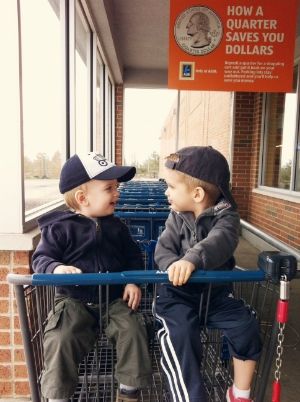 So I have this rule. It's kind of silly and slightly vain, but I try to always
shower and get ready before I run out to multiple grocery stores with my children.

First of all - it makes ME feel better. I feel more pumped up and ready for the task,
and not to mention more confident. My children are average BOYS - if I am going to be chasing
them up and down the aisles of the grocery store, I want to look good while doing it

This is NOT to bash others who work-it yoga pants style!
I'm just sharing about what makes ME feel comfortable.
I have been spotted running errands in sweats too! It happens.

Plus I really feel it makes us more approachable. I love to stop and talk to people along the way
and allow my kids to bless their day... because I hear it A LOT: "These babies made my day!"
I LOVE TO SEE GOD USING THEM EVEN IN THEIR TODDLERHOOD!


This list reflects my menu for the week.

PLEASE NOTE: This list does not include the basics that I stay stocked up on at home -
items like gluten-free flours, honey, rice, legumes, dried fruit, oils, spices and herbs, etc.
I also keep a supply of whole wheat bread (for Nathan) and frozen veggies in my freezer.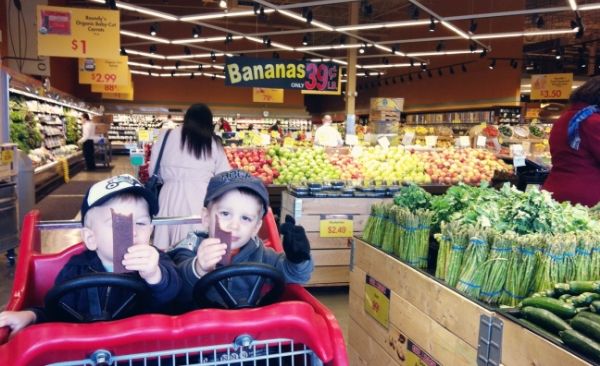 #1: Get to know the lay-out / prices of your local grocery stores. Make a list of regular purchased items
and compare prices. I will most certainly make a trip to another store if it will save me money.

#2: Go through the fridge, freezer, and cabinets before making a menu. What do you ALREADY have
that you can use? Start your menu plan based off of that information.

#3: Check sale fliers! The stores I shop at each week are mainly determined by the BEST OFFER.
Coupons for the foods we eat seem few and far between. I'll snag some every once in awhile, but for
the most part I rely on SALES. If organic kale is on sale, I work that leafy green into as many
dishes as I can that week. Planning AROUND THE SALES will make your dollar go farther.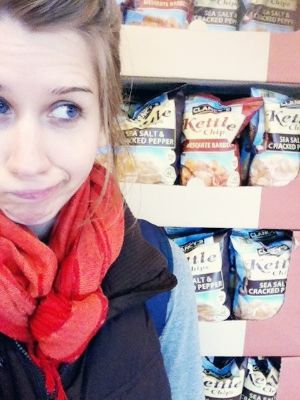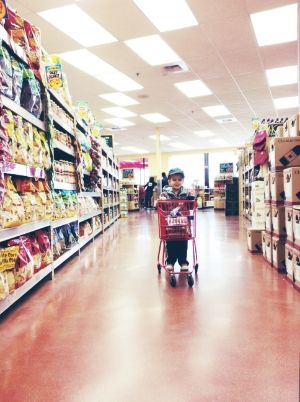 #4: Sometimes... I go to Aldi. GAAAASP! I definitely hit up Aldi when I can't find a good deal
or for items that aren't exactly healthy anyway... Liiiiike potato chips! Guilty pleasure. We are in love.
And pickles! Oh and get this - they sell the EXACT SAME corn tortillas that Whole Foods sells.
Yea... I'll buy those from Aldi and pocket the change I save!
Again - see #1 - I would not know this if I hadn't compared prices!

#5: Raise your right hand and repeat after me:
"I WILL NEVER EVER... EVER go shopping without
a menu plan and detailed grocery list."
Walking into a grocery store without a plan of attack will leave you vulnerable and unarmed
against the your biggest enemy: "IDEAS". Ideas of what you think you might - maybe want to make.
Planning, if you stick to it, ensures you won't over-buy.
________________________________
Here are some of my favorite places
to get ideas for menu planning:
The Kind Diet (cookbook) // The Kind Life (website)
Forks Over Knives
Keeper of the Home
The Unrefined Kitchen
100 Days of Real Food
Delighted Momma
Papa's Toolshed Mama's Kitchen
Food Network (magazine) // (website)
Pinterest
________________________________

#6: Plan to prepare meals that use one or two of the same : ingredients to maximize that item to its
fullest potential. This will create less waste too. If I buy a bunch of fresh basil - it will show up in spaghetti,
on sandwiches, in soups, etc. Make the MOST of your purchases.

#7: I shop 3-4 stores on a bi-weekly basis. I know that this is overwhelming for many.
I have found that it is the ONLY way for us to stay in budget and eat the way we do.
Seriously though, I daydream about being able to just buy EVERYTHING from Whole Foods.
That would be a luxury! If you just can't emotionally handle the idea of running to multiple stores -
then adjust your budget. It is not worth your sanity!

#8: Don't go to the grocery store hungry. Pack a snack. That way you won't be tempted!
Plus it is a great way to keep little pirates who want to jump ship... in the cart!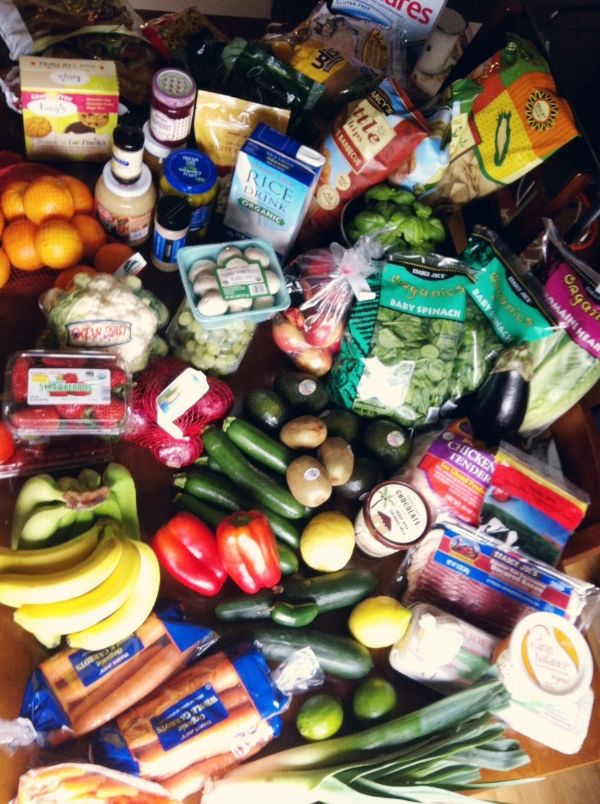 This is how we roll. Over half the table is covered in ORGANIC PRODUCE.
A small portion is taken up with hormone/antibiotic-free animal products and non-perishable items.
The produce will last us a week. All other products are for the next TWO WEEKS.
My routine is "big grocery trip" every other week with a "small grocery trip" on the off weeks.

#9: Be realistic. If you can't make everything from scratch, find healthy alternatives.
I totally bought a box of TO-GO gluten-free snack packs for the kids this week.
We are BUSY and they will be going places that don't offer gluten-free snacks.
These make MY life easier... and delicious!

YOU MADE IT!

So there you have it! Hope you have enjoyed menu planning and grocery shopping with me this week!
If you were here in person, I would totally give you a bite of my Clif bar to celebrate!

Oh that's rule #10: HAVE A PARTY when you are done! Reward yourself. It is a LOT of work.
But totally worth it when it comes to your budget and foodstyle of your family, right?!